Matthew Thorburn, Poet - Author of Dear Almost
Matthew Thorburn's books and chapbooks are available from
Amazon
, Barnes & Noble
, select local booksellers or directly from the publishers. If you'd like a signed copy, please reach out via the Contact page.
Dear Almost
Louisiana State University Press, 2016
Winner of the Lascaux Prize

"Like a modern-day Basho, Matthew Thorburn travels on a year-long journey through grief over the 'almost girl' he and his wife lose to miscarriage. Here, in artful, haibun-like free verse, the timely and timeless merge: geese are sucked into an Airbus engine, forcing an emergency landing; the poet contemplates the moon as he carries out a bag of garbage in the Bronx. The result is clear, mysterious, original, and ultimately hope-filled. Dear Almost might be the truest poem about miscarriage I've ever read."
—Katrina Vandenberg

"A book-length poem that is clear, yet nuanced and subtle in its use of imagery and implied metaphor, compassionate and graceful in its grief, and marvelous in its myriad of arrangements and structures. . . . Dear Almost displays disarming courage that I hope can be contagious."
—Sean Delgado, StorySouth


---
A Green River in Spring
Autumn House Press, 2015
Winner of the Coal Hill Review Chapbook Competition

"Never (or so I'm tempted to claim) has delicacy been so palpable as in the poems that make up Matthew Thorburn's chap collection, A Green River in Spring. The author says 'the first spark' for many of the poems came from reading classical Chinese and Japanese poetry. Thorburn retains much of what's wonderful about the sources—imagery, the link to nature, the meticulous placement of words, a deftness…."
—Eileen Tabios, Galatea Resurrects

"Matthew Thorburn invites us to inhabit his exquisitely drawn landscapes inspired by the Tang Dynasty poets. In this fully-realized world, people don't just believe in magic, they experience it firsthand: the Taoist who hitches a ride with a crane to get to heaven, the emperor who sips dew to prolong his life, the boy who falls down a well and emerges in Mongolia, 'whispering through his fever of the vast, star-clotted sky he swam beneath.' These poems create a world very different than our own, and yet we recognize it as if we are remembering a dream."
—Michael Simms

---
This Time Tomorrow
Waywiser Press, 2013
Finalist for the Anthony Hecht Poetry Prize

"Matthew Thorburn's This Time Tomorrow is a series of travelogues that are simultaneously internal and external. Though the poems are set in Iceland, Japan and China, and rich with fresh imagery of those places, his real subject is 'the built-in sadness of travel,' with 'sadness' conjuring the innate interiority of being in foreign lands. In a voice that is inventive, natural, honest and always clear, Matthew Thorburn has given us an exciting extended meditation on what it means to study the ever-surprising geography of one's own mind."
—Chase Twichell

This Time Tomorrow offers "a poetry of narration, sudden incongruities, and games of association…. The jump-cut is the book's most dependable device. The habit of moving in and out of the present narrative, to some associated thought or some earlier event, is a good tool for insinuating the traveler's permanent sense of unease. The long poem 'Something to Declare' is especially virtuosic….'"
—Maryann Corbett, Rattle
---
Every Possible Blue
CW Books, 2012

"Saturated with color and light, [Every Possible Blue] celebrates New York with deft, vivacious strokes. Similar to the way a city is always rebuilt, or a painter reworks a canvas, Thorburn's poems pay special attention to the clothing and adornments that change to fit life's varied occasions."
-Publishers' Weekly

"If Fred Astaire could write, it might sound like this: practiced, complex, graceful. Thorburn's grief is here but it is his secret; instead he writes of game changing moments that make him happy.... These are a sequence of anecdotes daring to love again, dreaming in daylight."
—Grace Cavalieri, The Washington Independent Review of Books
---
Subject to Change
New Issues Poetry & Prose, 2004
Winner of the New Issues Poetry Prize

"Wallace Stevens once said that poets must love words with all their power to love anything at all. Few first books show as much pleasure in words as Matthew Thorburn's Subject to Change."
—Stephen Burt, The New York Times Book Review

"The examination of personal nostalgia resonates throughout Matthew Thorburn's Subject to Change, and this underlying thread of sadness and remorse and hopeful expectation—a quest for what might have been and might yet be—makes the emotional edge of these poems burn with brilliant clarity."
—Matthew W. Schmeer, Verse


---
Powered by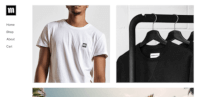 Create your own unique website with customizable templates.